Fallen Watertown firefighter laid to rest
---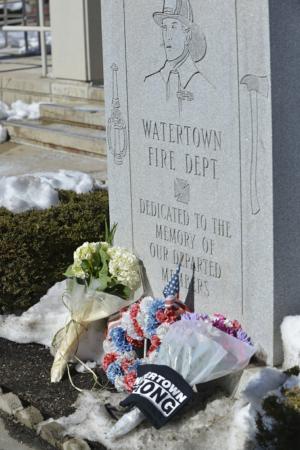 Flowers are laid at the base of the fallen firefighters memorial outside the Watertown Fire Station March 17. Kenneth Martin/ZUMA Press via Newscom
WATERTOWN -- Hundreds of firefighters, community members and other mourners gathered for a funeral Mass March 22 at St. Patrick Church in Watertown to bid farewell to Watertown firefighter Joseph Toscano.

Toscano, a 54-year-old Randolph resident and a married father of five, suffered a medical emergency while fighting a house fire on March 17. He was rushed to a nearby hospital, where he later died.

During his funeral Mass, he was remembered as a hard-working firefighter, a handyman, a talented cook, and someone who deeply loved his family.

"Joe was an all-purpose man at the firehouse -- there wasn't anything he couldn't do. Whether he was cleaning the bathrooms, driving the apparatus, taking care of the sick and injured, or fighting fires, he did every job very well," said Deputy Chief Robert Quinn.

He was always available to give a helping hand, he said, and "his house and his family were the center of his universe."

Toscano's daughter Alyssa Toscano also offered words at the Mass, standing at the ambo with her four siblings gathered behind her.

"My life-long fear as a fireman's daughter became true. I always feared this day would come as a little girl, but I never thought it would become my reality. I am now living my worst nightmare," she said.

She recalled many happy times with her father, like when he would take the family on outdoor trips, like hiking and fishing.